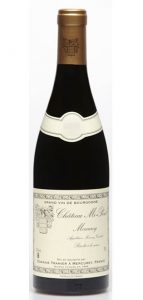 L. Tramier & Fils Chateau Mi-Pont Mercurey
Vinification: Only sound grapes are being harvested to make the Château Mi-Pont. The crushed berries are put in stainless-steel vats for maceration during for 10 days with a pre-fermenting cooled period of 2 days in order to extract the color and tannins. After the pressing, the wine is let to age in oak barrels during 12 months, and then bottled.
Aging Capacity: Up to 10 years.
Taste: A superb dark-ruby color and a fruity and well-developed nose. On the palate, a fruity attack, well-structured with rounded tannins. Medium-bodied with a fruity and long finish.
Pairing: It is best drunk "Chambré" (16-18°) with grilled meats or cheese.